It is a great exhibit this year and I am really honored to have been included.  It is totally nuts that a Winterbottom image is going to be exhibited next to work from Halo:Reach, Mass Effect, and the soon to be released Epic Mickey (which coincidentally I was actually really close to working on….but that is another story.) The Odd Gents and myself are really excited, congrats to all the other winners!  If you are at E3 this year check out the exhibit.
One of my favorite projects on the game was making "movie –style" posters to represent each of our game levels. Being inspired by silent films we wanted to introduce each game level with a new movie posters (to reinforce that they were their own bottled story as part of a larger serial) . This allowed me an opportunity to explore ways to iconically represent PBW in a variety of different situations; with color and in a style that could be different than the rest of the game art I generated for the project.  So it was great (and fitting) that one of these posters was chosen for the show.
"Savory Salutations" my winning entry in the 2010 Into The Pixel show
"Savory Salutations" was the first poster I did and set the tone for the rest of the series. The goal of each poster was to represent in an iconic way the main mechanic, or theme, of each level.   "Savory Salutations" had to stand for the first level of the game where you were introduced to: the main mechanic (cloning and time challenges), the locale (a crazy crammed city with a prominent clock tower) and the main character, (Winterbottom himself.)  I chose to make the imagery based on silhouette shapes to closely represent screen-printing or paper cut outs. Also the directness of a silhouette can carry a louder clearer message ( and it would not compete, but rather compliment the more rendered look of the rest of the game.)
Study your art history kids, it can win you acclaim!
The primary real world inspirations were vintage cabaret posters, Russian Avant-garde film posters, Saul Bass and generally all things Brecht or Dada. Some examples are below: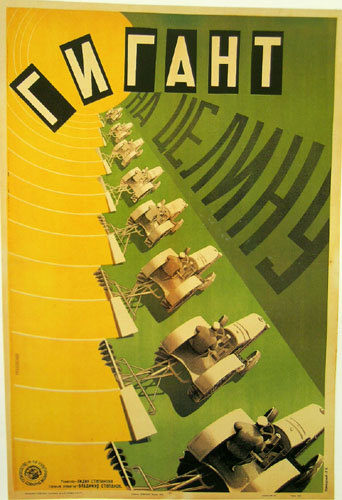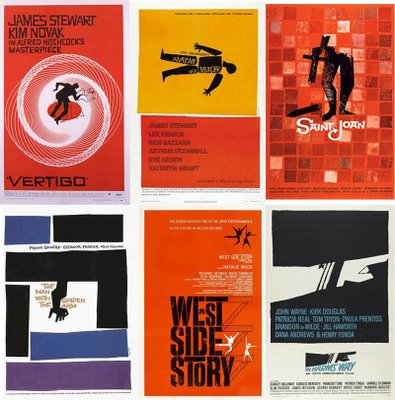 I loved the way these images could tell their own story using stylish graphic imagery.  Modern posters are typically floating heads or hero shots that are just letting you know which actors are in the picture.  However these vintage takes are so fun and vibrant ( alluding to the story while also being visually exciting as stand alone images).  We wanted to capture a nostalgic vibe with Winterbottom and using these posters as a springboard for our own helped us add to the games visual style.
More posters than you can shake a stick at!
To celebrate here is a selection of some of my favorite posters from the series of 10( which you can't see if you don't play the game and it's bonus levels.)
In Clockwork capers levels you have to get all the pies in sequence and within a tough time limit.
In Baked Blue follies only Winterbottom Clones (colored blue) could grab victory pies.
Purloined Pastries had you trying to collect as many pies as you could in within a time limit.
The Trial was done as the intro poster for the games Demo. It was the last poster I did and had to introduce the general theme of the game to prospective buyers. So i focused on the seductive quality of the pie itself.
Spelunking for Sweets took place in these crazy sewers and although it involved red evil clones, I chose to focus more on the locale.  These levels were really a turning point for the in game art. The 3D guys hit it out of the park and ended up going back and reworking other levels to match what they did with this level.  I was so inspired by what the 3D guys did I wanted to capture some of that in the poster.  ( probably my favorite poster of the lot.)
Circular Conclusions was the final game level and story wise focused on PBW reflecting on his mischievous selfish actions, while also having to fight all his clones.
For those interested in such things: I would make all the image shapes and layout composition using vector shapes in photoshop.  I would work out the  on the finished composition color theme.  I then added paper texture and, where applicable, drop shadows and patterns to the colored shapes.  To finish them off I would add the type treatment for each.
I made small thumbnails for some of the designs, but I mainly jumped into the final image right away.  With most of them my first impulse for design and composition is what I ran with (which is what happens when you are under tight deadlines).  All the posters were made in a 3 month window ( in addition to working on all the games illustrated title cards).  To answer your question…yes I was a total wreck after….but I am much better now.
Also Check out Dave Kang's badass Lego piece.   I met him at the panel  last night and his entry was really killer (Plus he is a cool dude to boot!)
That's all kids!
-Vincent